Student Profile: Rachel Cobb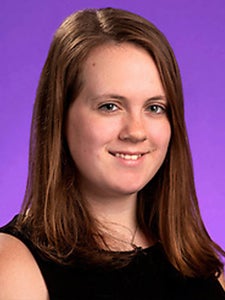 Undergraduate researcher Rachel Cobb is uncovering new ways to build inclusive classrooms.
Co-Investigator: Hannah Skaff

Mentor: Dr. Christy Howard
Department: Elementary Education
Project Title: "Representation and construction of disabilities in children's and young adult literature"
My research project is actually more of a creative analytical project. My research partner and I, along with our two faculty mentors, have spent the past semester reading up on the representation and construction of disability in children's and young adult literature, for example, how books portray characters with disabilities and how this affects readers. We plan to do a content analysis on a few select books to put this new knowledge into practice and learn about how disabilities are represented in literature to guide our decisions involving which books to use in our classrooms and help us learn to read and review literature from a social justice mindset.
---
How did you get involved in undergraduate research?
I am part of the Honors College, and for my required signature honors project, I chose to do a research project in my field of study, elementary education.
---
Why did you choose your research topic?
I chose this topic because, as a future educator, it is important for me to learn about inclusive literature and how to provide this in my classroom to create a safe learning environment for all students. Even though this project is focused on differences in ability, I am learning social justice and literature analysis principles that I will be able to apply to the representation of race, religion, language and more.
---
What's been your favorite part of conducting undergraduate research?
My favorite part of conducting undergraduate research has been being able to learn in a one-to-one setting with experienced professionals in my field and being exposed to new perspectives all the time.
---
What challenges have you faced while conducting undergraduate research?
One challenge I have faced in my research so far is finding literature to review – similar studies done by experts in the fields of education, disability studies, and children's and young adult literature – because our focus is quite narrow.
---
Why is your research important for the average, everyday person?
My research is important for the everyday person because it can help open people's eyes to the necessity of inclusive literature and the ability to analyze literature for discriminatory themes to ensure we do not promote literature and ideas that are hurtful to marginalized populations.
---
What's your ultimate goal or accomplishment that you hope your research will help you achieve?
I hope my research project will help me become a better examiner of the literature I will one day make available to my students so I can use literature to foster inclusiveness in my classroom.
---
How do you feel that participating in undergraduate research has helped prepare you for life after college?
Participating in undergraduate research has helped and continues to help me prepare for life after college by giving me opportunities to learn from professionals in my field in a way I may not have been able to without participating in research. I will be able to carry what I learn from them into my career as a teacher.
---
Do you have any advice for other students interested in conducting undergraduate research?
The best advice I have for other students interested in conducting undergraduate research is to pick a topic that means something to you and that is significant for your future education or career. If you research any topic just for the sake of doing it, you will lose total interest in your project and it will be a waste of your time.