Industry Initiatives
Our Industry Initiatives team is here to help your company develop simplified, accelerated connections to East Carolina University's students, faculty, and research units.
Whether you are looking to spur research and innovation, bring interdisciplinary thinking to a grand business challenge, or connect with top talent, we specialize in identifying opportunities for collaboration with ECU scholars, scientists and students.
Together, we can move your ideas into action.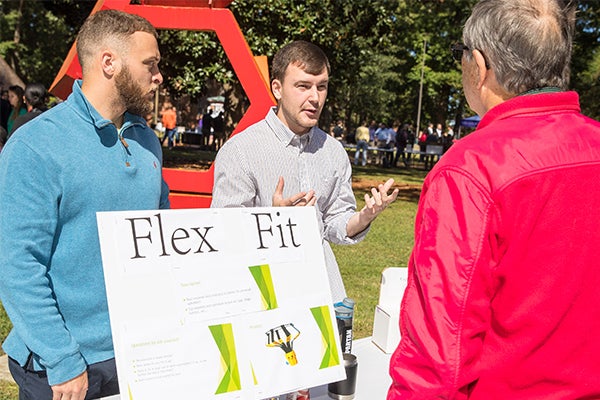 ACCELERATE SOLUTIONS

We know your business faces new challenges every day. As one of the fastest growing research enterprises in America, ECU can help. From developing a workforce pipeline to creating new product designs and marketing campaigns, we want to partner with you to create the right solutions that will help your business thrive.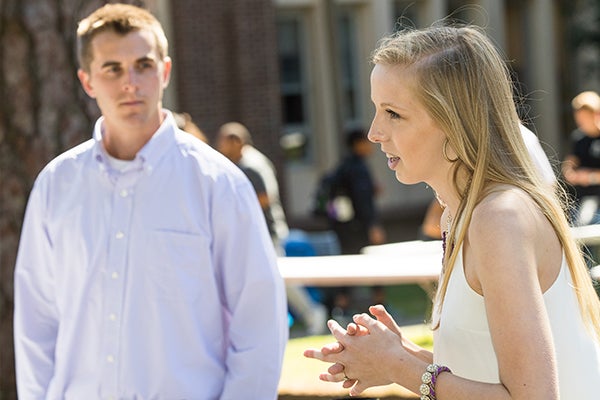 SPARK INNOVATION

You can tap ECU to find new business solutions that power innovation and drive success. Our Miller School of Entrepreneurship and Office of Innovation and New Ventures focus on cultivating new concepts, while our Innovation Design Lab and Big Data & Analytics Collaboratory provide 21
st
century technology to visualize future possibilities.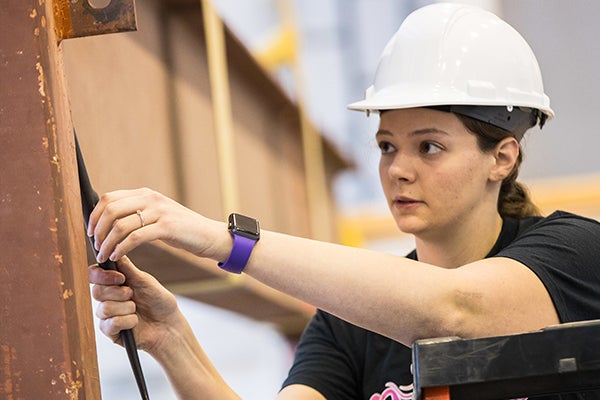 INCREASE EFFICIENCY

Our faculty and students regularly tackle real-world problems, leveraging a powerful combination of knowledge and know-how. Project teams deliver results by identifying opportunities and transforming ideas into action. ECU researchers can provide market segment surveys, supply chain and logistic reports, explore cost efficiencies through big data and evaluate current and alternative policies.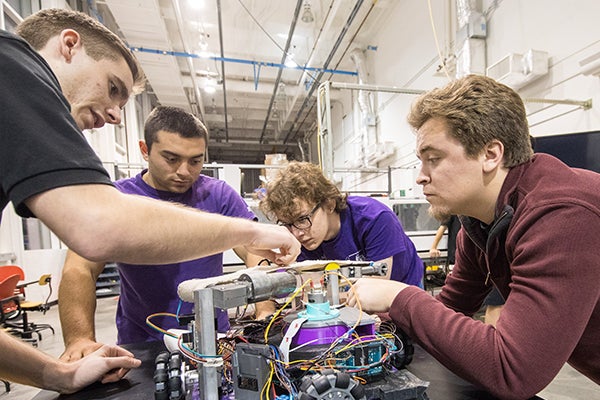 ENGAGE TALENT

With nearly 30,000 students, ECU has unmatched talent in eastern North Carolina, making the university your first destination to recruit the most talented and diverse candidates. Capstone projects, independent studies, internships, and sponsorships all offer opportunities for industry partners to bring their current challenges and openings to energetic and enthusiastic students who will become tomorrow's leaders.
---
Explore Our Resources
Below are a few examples of ECU's business partnership resources:
Our millennial campuses offer opportunities for organizations to collaborate with the university to jointly aid and develop research discoveries.
The College of Business's Professional Services and Research unit connects organization with faculty that focus in relevant and specialized research.
Our Entrepreneurship Center provides specialized, on-site management assistance to business owners, accounting for approximately 50,000 hours of fieldwork since 2000.
The College of Engineering and Technology's CITE program supports opportunities for regional businesses ranging from warehouse planning to advanced manufacturing and Lean Six-Sigma training.
The Miller School of Entrepreneurship's IDEA LAB connects business professionals with students, faculty, and staff to discuss potential new business ideas.
The Small Business and Technology Development Center supports industries by providing services including financial analysis, international business development, and market research services.
Our College of Engineering and Technology features a High Bay laboratory for large scale advanced manufacturing testing.
---
Ways to Engage
Whether your company is seeking to tackle research and development challenges, foster innovation, or recruit top-flight talent, the Industry Initiatives team provides university-level support to connect the strategic interests of your organization with the appropriate campus programs and contacts. Learn more about some of the resources available to our external partners below:
Collaborative Research: Numerous opportunities exist for industry to engage with ECU researchers, including: funded sponsored research; applied research projects; participation in ECU's research centers or pan-university research clusters; and joint proposals for federal and/or state funding opportunities.
Industry Capstone Program: Under the guidance of a faculty mentor, ECU student teams can be tapped to find new solutions to your company's real-world problems, putting coursework into practice. Student project sponsorship opportunities are available in a variety of academic disciplines across the university, affording an opportunity for your organization to engage directly with students and faculty.
Advisory Councils: Serve on one of ECU's research center and cluster advisory councils and help guide research priorities at the university. Advisory council membership offers an opportunity for industry experts to work alongside university faculty, staff, and alumni; ensuring that research and degree programs add real-world value.
Access Facilities and Infrastructure: Use our research facilities to give your company an edge. Our state-of-the-art facilities feature researchers and equipment that increase your competitiveness in the field.
Workforce Training: ECU offers 84 bachelors, 71 masters, 5 professional and 13 research doctoral degrees, while providing professional development training in economic development, finance, and pharmaceutical development and manufacturing.
Corporate Sponsorships: From individual events and projects to entire fields of study, the Office of Industry Initiatives can facilitate corporate sponsorship opportunities; a great way to gain visibility on campus.
---
Connect with ECU
How can we help you achieve your goals? Contact us today to learn more about partnering with East Carolina University.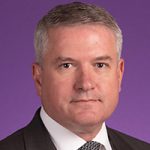 Keith Wheeler
Executive Director
Office of National Security
and Industry Initiatives
wheelerch18@ecu.edu
252-737-5569
---