International Postdoctoral Scholar's Research Earns RCAW Award 
ECU Postdoctoral scholar, Berwin Singh Swami Vetha, became the most recent winner of the Research and Creative Achievement Week (RCAW) awards in the postdoc poster category. Judges heard from 11 other researchers and presenters, and high scores landed Vetha's presentation top recognition, which included a trophy and a cash prize. 
In his poster presentation, Vetha introduced his research for the functional significance of angiotensin receptors in the neuroplasticity of (mRen2)27 transgenic model of hypertension.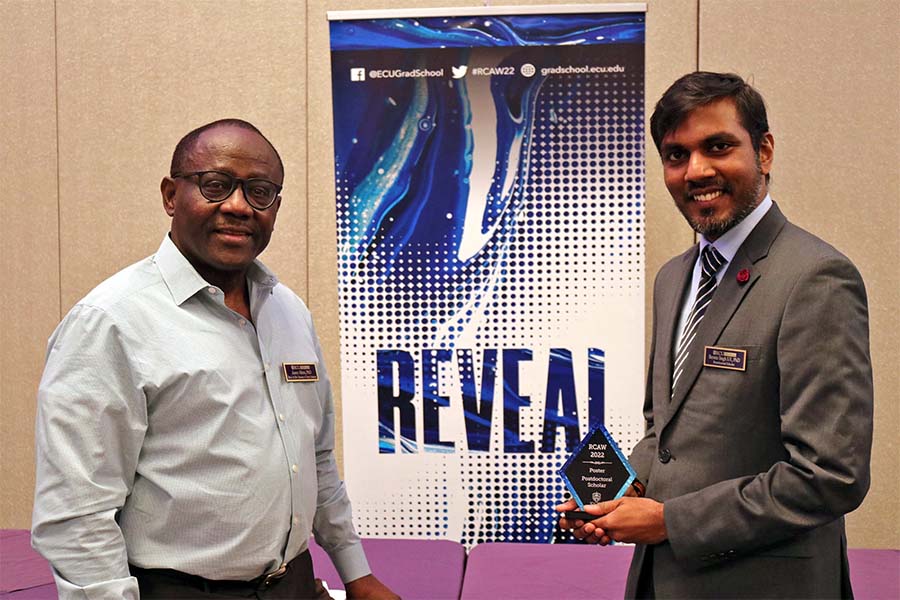 According to Vetha, high blood pressure contributes to nearly 1,000 deaths a day. He notes, "Many things can contribute to high blood pressure including lifestyle, stress, and genetics. Variations in human genetics, especially in receptor peptides, can result in changes in risk for hypertension." 
Part of Vetha's work focuses on receptor peptides that appear to be lacking in a genetic form of hypertension. The renin-angiotensin-system is a hormone system that regulates blood pressure by promoting retention of water, constriction of the blood vessels, and neuron action potential.  
Vetha said, "We are specifically interested in angiotensin II (AngII), the biologically active component of the renin-angiotensin-system, because AngII is predominately controlled by two important G-protein–coupled receptor (GPCR) subtypes: AT1 and AT2. AT1 receptors are the target of many hypertension drugs since AT1 controls AngII excitatory responses, such as water retention and blood vessel dilation. On the other hand, AT2 serves as the protective arm of renin-angiotensin-system, normalizing the effects of AngII and relaxing the blood vessels."  
"Using a rat model for hypertension, we suggest that the lack of balance between AT1 and AT2 plays an indirect role in the development and maintenance of the genetic form of hypertension. This research lays the groundwork for developing targeted therapies that would promote blood vessel relaxation to manage hypertension," he said. 
Researchers at ECU are often encouraged to study something that interests them personally. Vetha revealed he was inspired by family. "In 2013, I lost my aunt to heart disease, and a couple of months later my dad had a heart attack. I spent time at the hospital with him, and this made me realize the importance of cardiovascular health in aging individuals. This was my motivation to understand the underlying molecular mechanisms in heart disease and pursue more research in aging-associated diseases," explained Vetha.
Vetha's work at ECU is conducted under the mentorship of Dr. Azeez Aileru and as part of the School of Dental Medicine Foundational Sciences.
Dr. Aileru said, "Dr. Vetha is a great addition to the laboratory of Integrative Neuroscience at the School of Dental Medicine. He is a true scientist who consistently searches for innovation in the laboratory. I am proud of his accomplishment." 
Director of Postdoctoral Affairs, Dr. Kathryn Verbanac, emphasized, "Vetha's findings in a rat model have implications for human disease, and his expertise with polymeric prodrug formulations will assist the development of therapies designed to counteract this deficiency of angiotensin receptors. This is a great example of translational research occurring at ECU – multidisciplinary approaches to human disease leading to scientific discoveries that can then be investigated for clinical impact." 
Vetha was hired as a researcher for ECU's School of Dental Medicine in 2019. He received his master's in bio-medical science from the Bharathidhasan University in India and then trained in bio-medical technology at the Sri Chitra Institute of Medical Science. He received his PhD in engineering from Chonbuk National University in South Korea. His current research is focused on neuronal control of hypertension and its association with aging-associated diseases.