ECU's Golden Named to EPA Board
The United States Environmental Protection Agency announced the appointment of Dr. Jay Golden, ECU vice chancellor of research, economic development and engagement and a professor of engineering, to the EPA Board of Scientific Counselors on Thursday.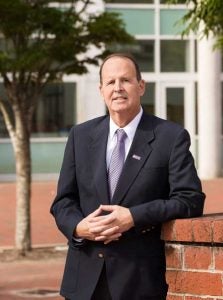 The board, established in 1996, provides advice, information and recommendations to the EPA's Office of Research and Development on technical and management issues of its research programs. Golden joins six other research leaders from across the country in this role, including researchers from Northwestern University, University of Georgia, Rutgers University and the University of Rhode Island.
"It is a great honor to be appointed with some very distinguished academic peers to serve our nation and scientific community," Golden said. "I am especially proud of the fact that I am able to represent ECU and bring the perspectives of communities and businesses throughout rural and coastal eastern North Carolina."
The EPA Board of Scientific Counselors has five key goals, including: evaluate science and engineering research, programs and plans, laboratories, and research-management practices of ORD to improve its quality and relevance to the EPA's mission; evaluate and provide advice concerning the use of peer review in the ORD to sustain and enhance the quality of science at the EPA; review the ORD's program development progress, research planning process, and research program balance; peer review the ORD's peer review policies; and provide advice on human resource planning.
The board has helped advise the ORD in the past by developing "Social Science Bootcamps" which showcased how the agency could integrate social sciences in environmental policy and management. It also annually reviews the ORD's new research programs, offering insight and feedback on national research programs including air, climate and energy, chemical safety and sustainability, and homeland security.
Prior to being appointed to his vice chancellor position at ECU in June, Golden had a distinguished research and teaching career. He was a tenure track professor and directed a National Center of Excellence on SMART Innovations at Arizona State University before becoming a faculty member at Duke University, where he also was the faculty chair of the Business and Environment Program as well as directed the Center for Sustainability and Commerce.
Golden was named a Faculty Pioneer by the Aspen Institute for his work on sustainability and business.