ECU to Host Coastal Research Conference
Coastal researchers from across the state will share their work at the third annual Coastal Conversations Conference Friday at East Carolina University.
The event, sponsored by ECU's Integrated Coastal Programs, Department of Coastal Studies, the George Institute for Biodiversity and Sustainability, and the Albemarle Pamlico National Estuary Partnership (ANEP), brings together scholars from ECU, ANEP, the University of North Carolina Institute of Marine Sciences, Duke University, North Carolina Sea Grant, the University of North Carolina at Wilmington, North Carolina State University and the North Carolina Coastal Federation.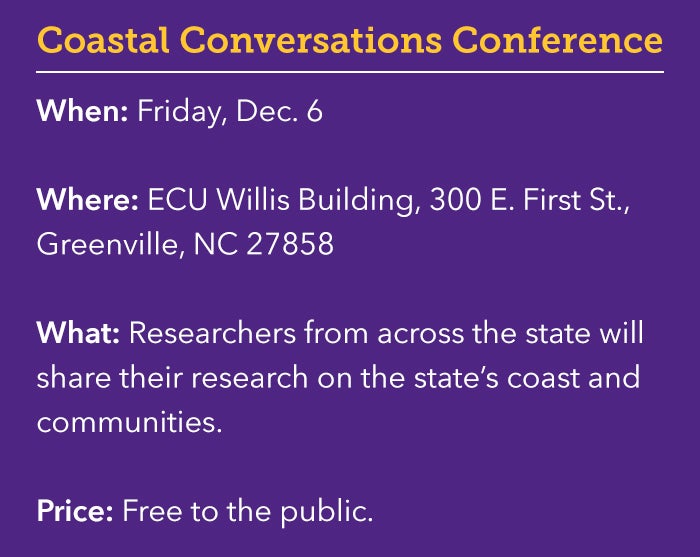 The free public event is scheduled from 9 a.m. to 5 p.m. at ECU's Willis Building, with George Institute President and CEO Dr. Robert Y. George opening the conference with an address on North Carolina's coastal resilience.
Presentations will take place throughout the day, with highlighted ECU-led discussions from researchers David Griffith, Jacob Hochard, Roger Rulifson, Erin Fields and Michael Brewer beginning at 1:30 p.m.
The conference, titled "Negotiating Vulnerability and Resilience Along North Carolina's Coast," is the third in a series of conversations on issues facing North Carolina's coastal communities and environment. Its presenters represent a cross-section of the natural and social scientists conducting research on North Carolina's coast and coastal plain.
"We are excited to host the 2019 Coastal Conversations Conference to highlight the interdisciplinary coastal research happening along North Carolina's coast and engage in conversations on how coastal communities can continue to thrive and develop paths to increased resilience," said Reide Corbett, dean of ECU's Integrated Coastal Programs and director of the Coastal Studies Institute.
In July 2018, ECU renewed its commitment to coastal science by creating a new academic unit called Integrated Coastal Programs, which encompasses the Department of Coastal Studies and the Coastal Studies Institute at ECU's Outer Banks Campus on Roanoke Island. The multi-institutional research site also includes dive and sea vessel operations.
ECU is a leader in coastal research in the state and beyond, with faculty members leading studies on North Carolina mariculture, tourism, maritime history, and coastal ecosystem change and development, among others.