Navigating Uncharted Waters
ECU's culture of service enables a response to help businesses amidst pandemic and beyond
This article appeared in Business NC's July 2020 Research North Carolina special section.
Over the last few months, the COVID-19 pandemic upended the way many industries interact with employees, customers and business partners. Universities provided research and technical expertise to address these challenging times. At East Carolina University, Pirate students, faculty and staff have been right there with businesses across North Carolina. Whether supplying personal protective equipment to health care workers or aiding small business owners with loan applications, ECU sprang into action and lived up to its motto: to serve. Before COVID-19, ECU was well known as a leader in online education, small business support, supply chain management assistance and telehealth. That history serves its region well now.
Learning, caring online
Long before the internet was developed, ECU positioned itself as a leader in distance education. The university offered its first extension course in 1947 and now reaches more than 6,000 distance education students. Designed for working adults, ECU's online education programs offer workers an educational experience that mirrors its on-campus opportunities. Among the program offerings for undergraduate degrees are business management, supply chain management and industrial technology. Graduate-level certificates in Lean Six-Sigma Black-Belt, project management and business analytics aim to provide more advanced skills.
Distance, especially in rural regions, can be a challenge that requires a cutting-edge solution such as the ECU telehealth program. The program — one of the longest running telemedicine operations in the country — provides clinical services and healthcare support, research and healthcare education. The North Carolina Statewide Telepsychiatry Program, housed at ECU, provides mental healthcare assessments and consultations using telemedicine technology. Whether a company needs to bolster its educational and training services, or provide its employees with new health care opportunities, ECU's resources are available to assist.
Supporting small businesses
Small businesses are the backbone of the United States' economy. ECU's business resource ecosystem offers innovative programs that advance student, alumni and community partners' small business ideas. The combination of programs offered at ECU is unique in North Carolina. The university's life-cycle approach to nurturing new ideas into successful small businesses means that it's there from start to finish, standing beside the businesses that buoy the state.
ECU launched its national award-winning student entrepreneurship program, RISE29, in 2019. The program connects students, small businesses and community leaders to transform North Carolina's economy. RISE29 supports existing businesses by developing continuity plans and student-led microenterprises in rural communities. So far, RISE29 interns have consulted for more than 18,000 hours with 17 businesses and launched two startups in rural communities.
While RISE29 focuses on businesses for the future, the Small Business and Technology Development Center at ECU is ready to help businesses now. Its counselors work with small and mid-sized businesses to help them become more competitive, create new jobs and improve the economy in North Carolina. Quickly deploying its resources, the center provided services to 202 clients, totaling more than 771 hours of assistance with loans and other questions during the first two months of the COVID-19 pandemic. It also led six town hall seminars aimed at businesses trying to cope with COVID-19.
Strengthening supply chains
The COVID-19 pandemic put a spotlight on supply chain disruption factors and signaled a coming transition toward increased onshoring, especially in sectors where national security criteria apply. ECU is ensuing that its industry partners have the tools to keep their supply chains nimble and operating successfully.
To address supply chain management expertise needs in eastern North Carolina, ECU's Department of Marketing and Supply Chain Management faculty actively engage with companies to improve supply chain efficiencies. Faculty partnerships developed solutions to warehousing and space needs, inventory management, supplier quality issues, supply chain-wide sales KPIs, supply chain process mapping, benchmarking and supply chain management best practices. Faculty also led cutting-edge research projects that investigate relevant operations and supply chain topics, ranging from how blockchain technology can improve global circular economy initiatives to applying traceability tools to improve health care and the food supply chains.
ECU's College of Engineering and Technology has a long history of supporting industry for supply chain management. The college's Center for Innovation in Technology and Engineering offers immediate impact training with a focus on supply chain management and lean manufacturing. Several of the college's degree programs support industry and supply chain initiatives by partnering students with businesses to conduct faculty-supervised capstone projects. These projects are a collaborative effort between industry partners, faculty and senior-level students that can be used to tackle a business's supply chain needs.
In the face of unchartered waters, ECU is well positioned to help its industry partners adjust to the changing tides. The university's support for online education and health care, small businesses, and supply chain management assistance are just a few of the ways its research enterprise empowers North Carolina's economy.
Connect With Us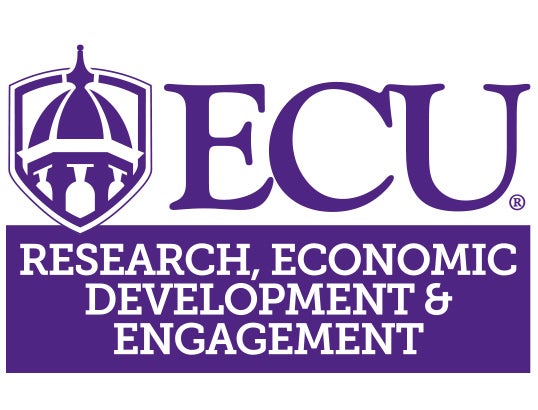 East Carolina University Division of Research, Economic Development and Engagement 
209 East Fifth Street, Mail Stop 157
Greenville, NC 27858
252-328-9471