REDE Announces New Additions to Team
REDE is pleased to announce the following additions to staff: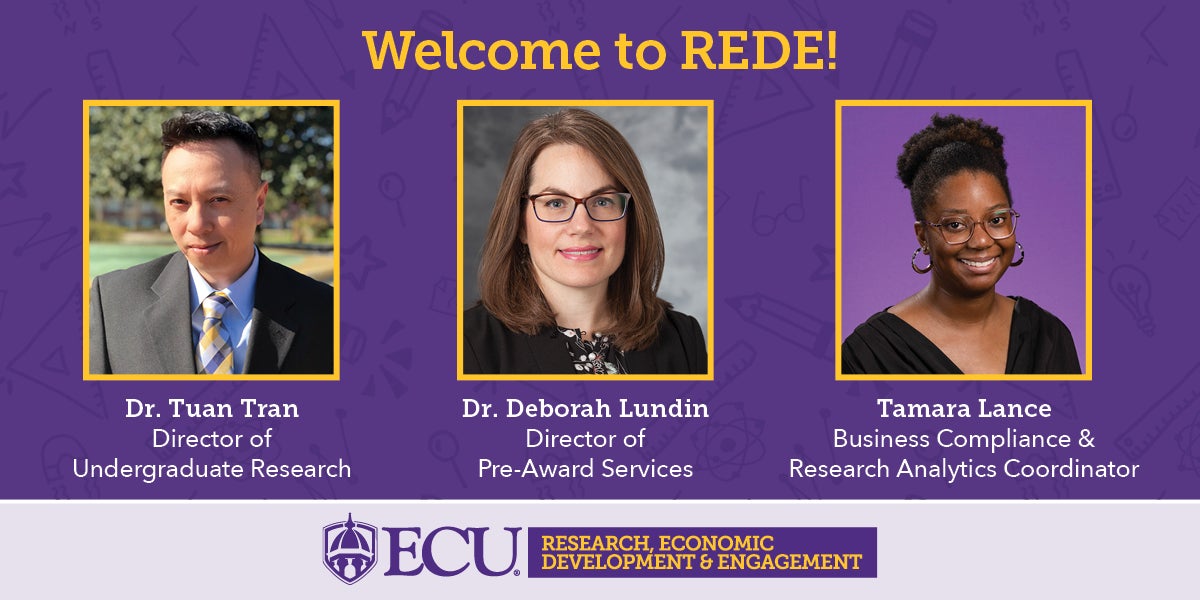 Tuan Tran, Director of Undergraduate Research 
Longtime Pirate Dr. Tuan Tran will head Undergraduate Research at ECU beginning July 1, 2022. Tran came to ECU in 2005 as an Assistant Professor in the Department of Psychology where he initiated his research program in the Behavioral Neuroscience lab. In 2007, Tran became the Director of the Multidisciplinary Studies Program in Neuroscience. Dr. Tran was promoted to Associate Professor in 2011 and began his service as Associate Chair of Psychology and on the Institutional Animal Care and Use Committee. He has been an integral part of other department and college-level undergraduate education-focused committees over the years. 
Dr. Tran has long valued the important impact that undergraduate research experience provides students towards their personal and career growth and how faculty mentorship of students has a direct corollary with enhancing faculty productivity. Under his leadership with the Program in Neuroscience, it has witnessed tremendous growth in size, reach, and opportunity for a diverse population of students. A hallmark and continued strength of the program is the enthusiasm by research faculty on both the main and west campuses to mentor undergraduate neuroscience students. More than 70 undergraduates have been mentored in his research lab, many of whom have launched careers in biomedical science, medicine, and the social sciences.  
---
Deborah Lundin, Director of Pre-Award Services 
Dr. Deborah Lundin is the new Director of Pre-Award Services at ECU. Lundin comes to us from Wisconsin with 20 years of experience as a certified research administrator at higher education institutions. Most recently, she was the manager of research development at the University of Wisconsin, serving three of the seven campuses across the state. She was the associate director of pre-award services at Wright State University for eight years. At the University of North Carolina Pembroke, she served in several roles – first as the research and training coordinator and assistant director, then as the associate dean of research. Other roles in her career have included proposal development specialist, internal grants coordinator and grant writer. Dr. Lundin received her doctorate and Master of Arts from Ball State University. She has retained a certificate in research administration since 2015. 
As the Director of Pre-Award Services at ECU, Dr. Lundin will manage day-to-day Pre-Award functions in the areas of proposal review and submission, award negotiation and acceptance, and award set-up. As the subject matter expert, she will assist in reviewing proposals for compliance with ECU policies, as well as identifying and resolving problematic terms and conditions and issues unique to collaborations. She will evaluate and endorse proposals and provide assurances, representations, and certifications on behalf of ECU's nearly 800 proposals and signatory for nearly 500 awards totaling over $70M annually in secured external funding support.  
Tamara Lance, Business Compliance & Research Analytics Coordinator 
Tamara Lance from Memphis, Tennessee joins REDE as the new Business Compliance & Research Analytics Coordinator. Lance most recently worked for St. Jude Children's Research Hospital as a research analyst in the Grants & Sponsored Program Office and a community impact project specialist for United Way of the Mid-South. Since 2011, she has served in the roles of data management specialist, reimbursement & audit specialist and collections specialist. Lance received a master's in business management from Union University and a Bachelor of Health Administration from the University of Memphis. 
As the Business Compliance & Research Analytics Coordinator at ECU, Lance will lead the Data Analytics Team. She will serve as the system administrator for the pre-award proposal and award management eRA System (eTRACS). She will also oversee the Team Dynamix Ticket System. Lance will work with the REDE Data Team to develop and utilize quality assurance reports to ensure data integrity. 
Welcome aboard, Pirates!