ECU's SBTDC Helps New Owners of Uptown Greenville Fashion Landmark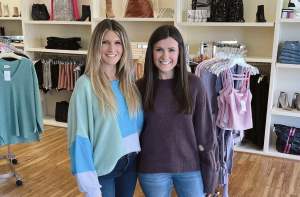 A new chapter is about to be written for a long-time fashion landmark in uptown Greenville. Catalog Connection, which opened almost 30 years ago in 1994, has new owners: Maddi Lamm and Daniella Allen. Like the store itself, Lamm and Allen's Pirate roots run deep as ECU graduates. In addition to being small business owners, Allen is a kindergarten teacher and Lamm is a local realtor and assistant cheer coach at ECU.
"It's great to see our Pirates stay local and invest in our community, and we're really pleased we could play a small part in making it all happen," said Rob Bower, director of ECU's Small Business and Technology Development Center.
Over the years, Catalog Connection has evolved into Greenville's largest women's boutique offering the widest variety of women's clothing including game day, formal wear, and casual clothing.
"As as student at East Carolina University, Catalog Connection was the 'go-to' place to shop," says Lamm. "We're honored to have this opportunity to carry on its legacy and add our own spin."
The store is the latest venture for the pair who opened their online boutique, Bella Maddison, in late 2022. In purchasing the storied retailer, Lamm and Allen reached out to the SBTDC at ECU for help with their business plan, financial projections and funding alternatives.
Lamm and Allen say, "If you're looking for help starting a business or have questions, the SBTDC is exactly who to reach out to. Rob was extremely helpful, responsive and made creating our business plan and financial projections seamless."
Over the next few years, Lamm and Allen plan to keep the Catalog Connection name while also enhancing inventory, adding a more mature line of clothing to appeal to young working women and rebuilding the brand back to its full potential.
"Staying on top of the latest fashion trends is imperative to us as boutique owners so we'll attend markets which will allow us to learn about these trends as well as order high quality items at an affordable price," said Allen. "We plan on hosting and attending pop-up shops and festivals throughout the ECU community to make sure we stay in tune with what our clients want to wear."
You can visit the store at 210 E. 5th Street, Greenville, NC 27858 or online at www.shopbellamaddison.com. The storefront is open Monday through Saturday from 10:00 a.m. to 6:00 p.m.
– Rob Bower, Director of Small Business and Technology Development Center at ECU