ECU Economic Development Academy Certifies Six Economic Developers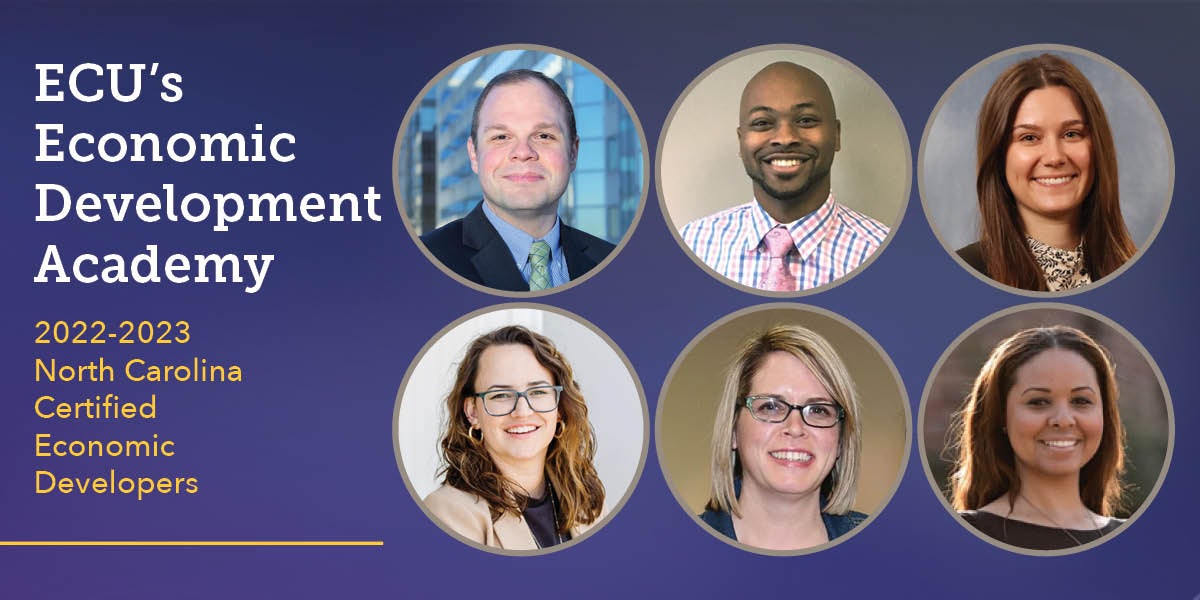 ECU's Economic Development Academy certified six members as North Carolina economic developers during the 2022-2023 session. The program provides seasoned economic developers and those new to the field relevant and affordable continuing education opportunities as well as an accessible credentialing program. Earning the certification gives participants a competitive advantage to boost their local economies and bring prosperity to their communities.
The certification program is offered through a partnership between ECU's Research, Economic Development and Engagement, the Office of Continuing & Professional Education and the North Carolina Economic Development Association (NCEDA). It began in 2018 as part of ECU's mission of helping bring about regional transformation and in support of economic development. The program's curriculum is designed to focus on challenges and opportunities that face North Carolina communities.
To earn the certification, recipients must complete an initial course through the UNC School of Government as well as six courses available through ECU and fulfill a capstone project. Members are reviewed before receiving approval for certification.
2023 certification recipients are:
Jason Cannon, Economic Development Director, Wake Forest
James Carter, Talent Development Program Manager, City of Charlotte
Rachael Holzman, New Opportunities Manager, Monroe-Union County Economic Development Commission
Emily Martin, Director of Industry Relations, Henderson County Partnership for Economic Development
McKinley Perkinson, Director, Henderson-Vance County Economic Development Commission
Jocelyn M. Wilkins, Economic Development Specialist, Franklin County Economic Development Commission
The newly certified developers were recognized during the annual NCEDA conference in Wilmington, NC, June 28, 2023.
ECU along with University of North Carolina Wilmington faculty, economic development experts, and Hayes Group Consulting, LLC provided instruction and mentorship.
In total, 84 contact hours are required to earn the certification, including courses in retention and expansion, attraction, innovation and entrepreneurship, data and analytics, organization and operation, legal framework, and other subjects.
The program is offered to North Carolina economic development personnel, elected officials, business leaders and others interested in the field. Economic development leaders interested in the academy can register online.